Our slogan:
"Live and work within the circle of nature".
Our farmhouse

We are the first proudly certificated organic farm in San Candido. We work and cultivate our lands following the BIOLAND- guidelines since 2005.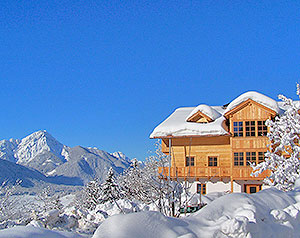 Our farm is located at 1375 meters above sea level on the sunny side of the hill overlooking the breath-taking peaks of the Dolomiti di Sesto, natural world heritage UNESCO, nestled within our woods and meadows, foreclosed from noise and traffic.
In total we dispose of about 30 acres of land, split into 10 acres of green land and 20 acres of woods. At present we also dispose of about 2 acres of pasture on lease. Our fields and meadows are set mostly underneath the farm with an average slope inclination of 40%. This fairly steep inclination makes, despite modern machines, handwork still very necessary to ensure our hay harvest. The main part of our field gets harvest twice, while steeper parts such mountain meadows only once a year.
Our farmhouse has been completely renovated in the last couple of years. This enabled us to set up, following biological building methods, four apartments and a farmhouse store for our home made products. In accordance mit our slogan, we use our chipping plant as alternative energy source. The wood needed for the energy production comes from our forests.
You may help us with the daily farm work. Our little guests are particularly pleased if they can help with the daily work with our animals. But also adults can help us with gathering hay, collecting and processing herbs or can participate to special guided wild-herbs-tours.
History
1912 was the year when our "Ranerhof" produced his first energy through electro turbines. But electric light has not been installed until 1921.
The nowadays still existing source was opened in 1952 and water was directly conducted into the house. Up to then we had to fetch the water from the stream.
The living quarters of the farmhouse were demolished and newly built in 1980. Central heating, WCs and showers were fitted, definetly luxury for a mountain farmhouse back then.
We started building the new barn in 2001. Thanks to a lot of own work, we finished it by 2006 and our animals could be stabled.
In spring 2007 we started to refurbish the residential building, which meant first of all breaking off the old barn...
... and then rebuild it...
... 2012 we demolished it and rebuilt it again...
... till the house could finally shine in new splendor in 2014, after plenty of hard work.
Since at least the 18th century the farm is run and passed on within the family.
Genealogical tree of our farm Ranerhof
Johann Rainer & Maria Klettenhammer
...
Andreas Bachmann Ⅱ ( * 1739 - † 1813) & Maria Khuenaterin
...
Andreas Bachmann Ⅲ ( * 1774- † 1840) & Maria Tassenbacher ( * 1774 - † 1851)
...
Josef Villgrater ( * 1814 - † 1900) & Maria Bachmann ( * 1811 - † 1846)
...
the unmarried daughter Elisabeth Anna Villgrater ( * 1847 - † 1919)
bequeathed the farm to her nephew
...
Peter Paul Tschurtschenthaler ( * 1896 - † 1948) & Anna Aichner ( * 1900 - † 1980)
...
Peter Tschurtschenthaler ( * 1927 - † 1975) & Friederike Patzleiner ( * 1928)
...
Josef Burgmann ( * 1959 )
& Margareth Tschurtschenthaler ( * 1961 - † 2000)
...
Markus Burgmann ( * 1982) & Sabine Durnwalder ( * 1984)
...
Greta Burgmann ( * 2009) - Sara Burgmann ( * 2011)
Live&work on a mountain farm