Holiday on our organic farm Raner Hof
Fancy a holiday?
Would you like to leave your everyday life behind and
enjoy some relaxing days?
We are the place you are looking for!!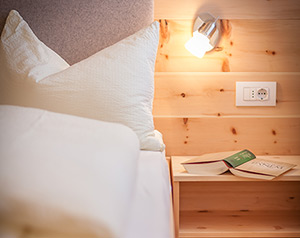 We put plenty of love and passion in furnishing our apartments. During all building process we put attention on to an eco friendly way of construction using natural materials.
In accordance to our slogan :" Live and work within the circle of nature", we called our apartments "earth", "water", "fire" and "air". Every apartment has its own character, reflecting the elements in its furnishings.
Matching our way of farming and our life style, we built our apartments following an eco-friendly building system. All furniture is made out of solid timber. Our rooms are made out of pine wood : delightfully scented , ensuring a good night's sleep.

Swiss stone pine, its effects:
Scientific studies have confirmed the relaxing effects of the stone pine on the human body. It decreases the pulse, calms and relaxes. In addition, the spicy-resinous fragrance and essential oils of the pine promotes sleep.
Our holiday flats.
In the name of the 4 elements.